About Oaxtepec
The Town
Oaxtepec is a historical place that our forefathers gave the nahuatl name "Huax-tepe-c", from Huaxin (guajes, a small pumpkin-like plant), tepetl (hill) and c (place), that translates to the hill where guajes grow. In this place Moctezuma Ilhuicamina decided, in 1469, to install a large acclimatization garden, bringing from far away places ornament and medicinal plants, creating the first indigenous botanical garden to which ill people from all over the Aztec Empire came to find health in its vegetation's curative properties and in its abundant water springs.
In the colonial times, and more specifically in its last part, during the XVI to XVIII centuries, majestuous and imponent Haciendas were built in what today is Morelos state. Augustines, Dominicans and Franciscans that make up the "Convents Route". In this route, you can appreciate the huge amount of art and sensibility that came from indigenous hands and Spanish art that, bringing together efforts and resources, consolidated the two pillars of the colonial regime: Economy and Religion. Today, 11 of those convents have been designated Cultural Patrimony of Mankind by UNESCO, among them Oaxtepec's Santo Domingo de Guzmán Ex-Convent, which got this recognition in 1995, and is recognized as the best preserved from the period.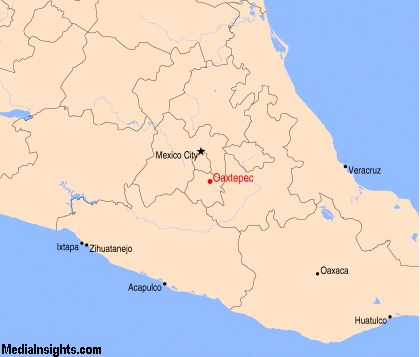 The Vacational Center IMSS Oaxtepec
In Oaxtepec, Morelos, 75 minutes away from Mexico City and at 1360m above sea level, the Mexican Institute for Social Security (IMSS) built Vacational Center IMSS Oaxtepec, spanning 120 hectares, a great touristical and convention complex unique in its kind. It started working on November 28, 1964, offering a place to rest, have fun and adventure, putting together a nice subtropical weather with an around the year average temperature of 27 degrees Celsius, diverse landscapes with exuberant vegetation, archeological and colonial ruins with top recreative and sport installations, all this adding to an excellent lodging service that with its comfortable installations will allow you to host 1784 people in 391 comfortable and functional rooms, and the Camping Zone, completely renovated with capacity for 1000 tents in 9 hectares.
Vacactional Center IMSS Oaxtepec has as its goal to create the ideal spaces to hold conventions, expositions and commercial and sports fairs, set in a natural environment, having for that the best installations and multimedia equipment.
All of the above services allow Centro Vacacional IMSS Oaxtepec to be qualified as a touristic jewel in Morelos state, combining rest, adventure, recreation, modernity and renovation.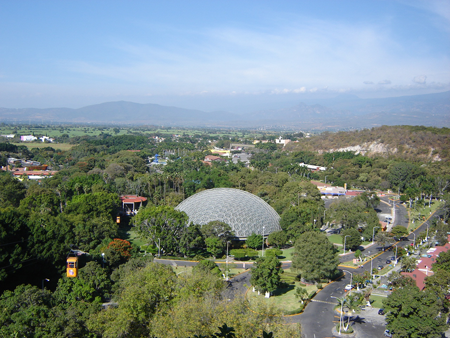 Weather
Morelos isn't as hot as the costal regions and temperatures in the range of 68°f/20°c to 86°f/30°c can be expected.
You can check how is the weather in Cuernavaca , a city near Oaxtepec.
Pronunciation
It's easier to find a place in a foreign country when you can pronounce it - Oaxtepec.